Establish or give to an Endowment Fund
A named fund is a meaningful way to honour a loved one or your own love of the Library and your commitment to the Library's future. The fund will ensure that your capital is held over the long term and that the income earned provides a sustained source of funding for a program, service or area of Toronto Public Library that you are passionate about, like children's literacy, civic engagement or collection support.
Named funds, expendable or endowed, may be established during one's lifetime, through a bequest in one's will, or a combination of the two.  Your fund may be created with a minimum commitment of $25,000, payable over up to five years. Friends and family may add to and grow your fund at any time, with no minimum amount.
You may also choose to support an existing endowment with a gift of any amount. To donate to an existing endowment, please download and complete the Endowment Donation Form and mail it to the Foundation, or donate online.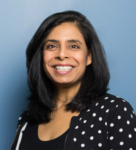 Contact us for more information
Liza Fernandes, Director, Legacy Gifts
789 Yonge Street, Toronto, ON M4W 2G8
T. 416-397-5924
E: lfernandes@tpl.ca
Charitable number 886554476RR0001