Thank you for supporting Toronto Public Library.
Your gift will support the highest priority needs of the Osborne Collection, including conservation and digitization. Acquisitions may be supported by designating to the Lillian H. Smith Endowment.
All gifts automatically make you a member of the Friends of the Osborne Collection. Members receive The Gryphon newsletter, invitations to lectures and events, and notice of special exhibits.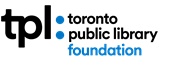 Charitable Number: 886554476RR0001