Freelance writer Fransi Weinstein comes to the Toronto Reference Library for inspiration. "I love the space, the lighting, the energy," said Fransi. "As a writer, I get inspired by the activity and people-watching."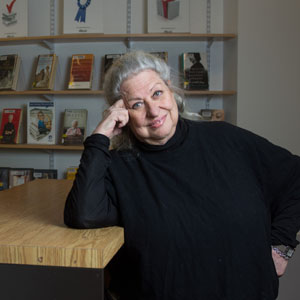 Fransi generously shares her library experiences with others. She's told a cousin studying at a local design school about the library's less expensive 3D printers. On Fransi's advice, a friend is using the library's Asquith Press to print a family history. And thanks to a tip from Fransi, former colleagues use the study cubes at the Reference Library to meet with clients.
In addition to "spreading the word", borrowing books, downloading magazines and attending the odd lecture, Fransi donates to the Toronto Public Library Foundation. She believes, "We must support the library. It's a responsibility we have if we're benefiting from it. It doesn't need to be a lot of money."
Thank you Fransi for your support! If like Fransi, you love TPL, please donate.