If you've ever been blown away by a virtual reality experience, here's your chance to delve into this amazing technology. The Innovator in Residence program at Scarborough Civic Centre Branch is offering free classes in virtual reality from September 12 to December 10.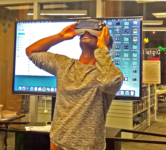 The course is led by Elli Raynai, a writer, producer, director, and VR filmmaker. Drop into a class or register for a workshop or a one-on-one appointment, it's all free! If you're completely new to VR, the Introduction to Virtual Reality classes are September 24 and November 12. See the full schedule of classes and workshops.
This program is made possible thanks to a Community Grant from Google Canada.