Introducing "I'm Library People".
A rallying cry. A badge of honour. A discussion starter.
A social media campaign that will connect all of us and raise funds for Toronto Public Library.
Just in time for Canadian Library month, we're inviting people (just like you!) to stand up and make public their deep connection to TPL – a connection many aren't aware of – whether you use the Library today, or did long ago. A connection that is true, enduring, and inspires you and those you know, to give.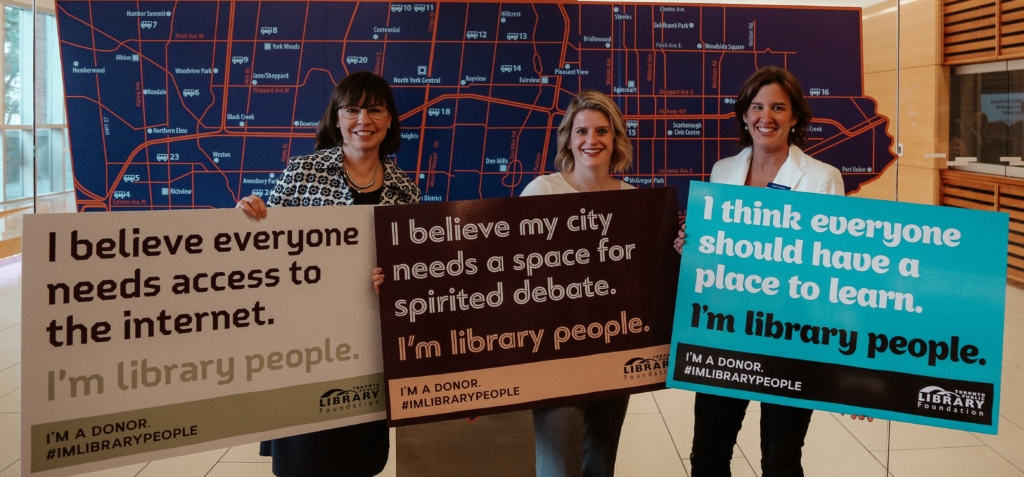 "You don't have to actually visit the library to understand and believe that Toronto Public Library has vital impact in our city's neighbourhoods.  Whether its free internet access, equipping new Canadians with the resources they need to succeed, or providing safe community spaces – what makes you 'library people' is that you wholeheartedly believe in providing these free programs and services and space to enrich all our diverse communities.  My sincere hope is this campaign moves Torontonians to support Toronto Public Library – maybe for the first time." Jennifer Jones, President, Toronto Public Library Foundation.
Help us spread the word and let people know why you support the library. Be Library People.  #IMLIBRARYPEOPLE.
From our 2017 Annual Donor Appreciation Event where the campaign was previewed first to library donors.
Click on the download button below to share our social media assets on your Facebook, Twitter and Instagram.
         
Your support is greatly appreciated. Donate today to support our 'I'm Library People' campaign.