Thank you for helping Toronto Public Library make a difference!
Your donation will be directed to provide vital connections for Toronto's most vulnerable. Families and individuals will receive an Internet Connectivity Kit that contains a laptop, Wi-Fi hotspot and 2 years of unlimited data – all for free.
Every donation of $2,250 to TPL supports the purchase of one kit, and benefits a family/individual in need in Toronto.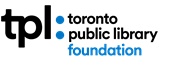 Charitable Number: 886554476RR0001